There have been two unexpected spin-offs from my post about delegating when entertaining over the festive season. First, two of the guests we were expecting for dinner on Saturday night cancelled their appearance. They claimed to be stuck in New York and unable to get back, but I have my doubts. Was it the email I sent suggesting they bring something?
Then, a few days ago, my mother-in-law sent me an email about Christmas. In the middle of what my colleague calls 'a compliment sandwich' (that's when you disarm someone by saying something nice, stick the knife in, then say something nice again) she cleverly outsourced the cooking of the turkey and the dreaming up of some salad ideas. To me.
It didn't take me long to realise that I'd been outplayed. Friends, I have so much to learn. But, after a weekend of thinking deeply about what to make, I've come up with something fresh, festive and extremely easy. Now I just have to delegate the making of it to my father-in-law.
Christmas Confetti Salad
Making this salad is the sort of job you can give someone who walks into the kitchen and says 'what can I do to help?' – on the basis that a) they have basic knife skills and b) you have delegated out all the other jobs, like washing dishes, setting the table and corralling the children/elderly relatives. As long as you're not having to do all those other things, or have had a glass of festive bubbles, it's quite soothing to stand still and do a bit of chopping. It's great with ham and turkey and tastes great the next day when you need something cold and refreshing to eat. You could also pile little mounds of it into avocado halves for a appropriately red, white and green starter.
2 pomegranates
2 red peppers
1 small red onion
4-6 small radishes
half a telegraph cucumber
a small bunch of mint, finely shredded
Dressing:
a clove of garlic, smashed
a good pinch of salt
a pinch of sugar
2 Tbsp lemon juice
5 Tbsp extra virgin olive oil
1/2 tsp sumac
First, make the dressing. Crush the garlic and salt together with a knife until it forms a paste. Scrape this into a small screwtop jar, then add the lemon juice, sugar and sumac. Shake together until well mixed, then add the oil and shake again. Taste for sharpness – add more oil or lemon juice as necessary. Set aside.
Cut the pomegranates in half and scoop out the seeds. The Ottolenghi-endorsed way to do this is to bang them with a wooden spoon, but I find this squirts juice everywhere. My preferred method is to winkle the seeds out with a knife.
Chop the rest of the vegetables into pomegranate seed-sized dice. Tip everything into a bowl. Pour over the dressing, scatter over the shredded mint and stir gently to combine. Serves eight as a side dish.
For more herby, salad-y goodness, you might like to check out Karen's Cooking With Herbs round-up for December. If there's ever a time of year to eat your greens, this is it!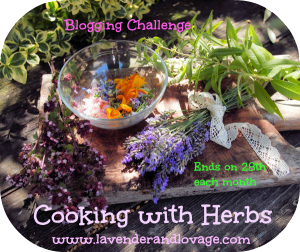 Do you delegate out parts of your Christmas dinner preparations, or do you prefer to be in sole charge?